L'Archittectura di M.Vitruvio Pollione is a translation of Vitruvius's work with commentary by Berardo Galiani.
The book is organised in the following manner;
A dedication to King Charles of two Sicillies, a preface from the translator, an oversight of the 10 books of Vitruvius's work (those elements are written in Italian), the ten books of Vitruvius (In latin), an index and finished by an arrangement of tables usually bundled with the 10 books in the 16th century, the are used to illustrate the book's content.
The book is 41cm x 27 cm x 7 cm, it is referred to as 2° on e-rara categorizing it as a folio. The book contains 462 pages, of which 25 are illustrations.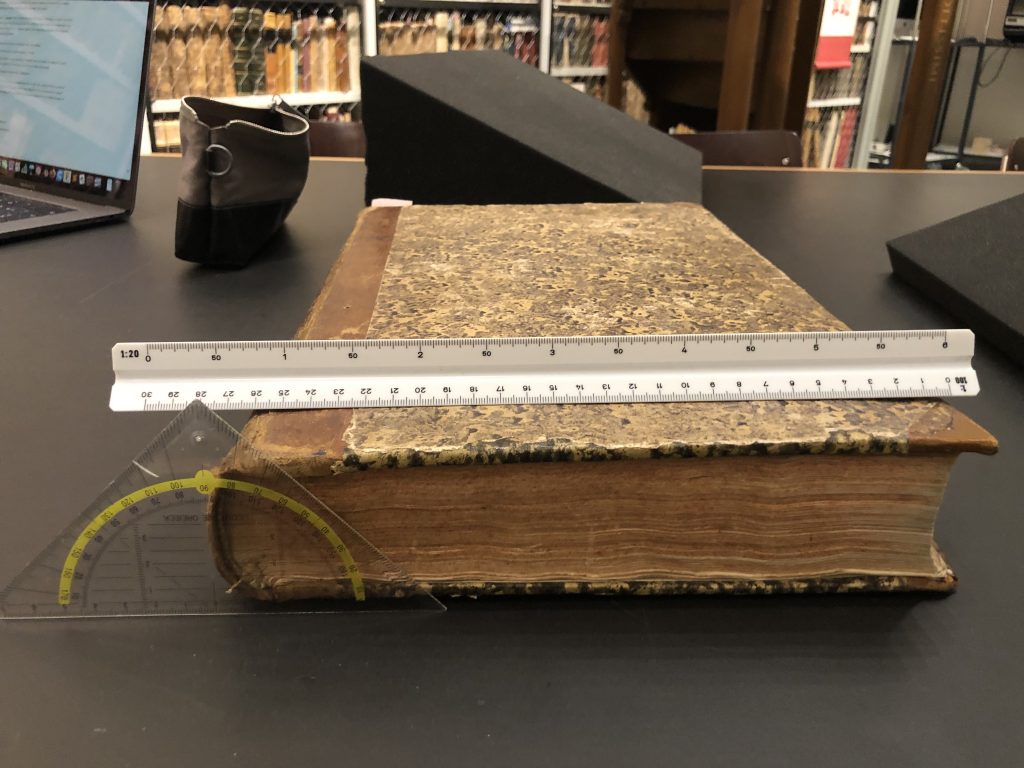 download link: https://www.e-rara.ch/download/pdf/14461008?name=L%27%20architettura%20di%20M%20Vitruvio%20Pollione
I would like to bring to your attention that, the digital copy and the book I had the pleasure to interact with, differed slightly.
The cover of the book is outfitted with a marmor pattern and bound by calf leather, the spine of the book bears the inscription Vitruvi Archite.
On the first page of the book we find an old numerical classification code, most probably written in the 17th century. Note sheets and letters are littered throughout the book, I was not able to date them accurately.
The paper seems to have held up quite well through the centuries, some water and worm damage is noticeable. Within the book, two different paper qualities are found, the tougher one for the traditionally pressed text segments and a thinner sheet for the wood pressed illustrative images.