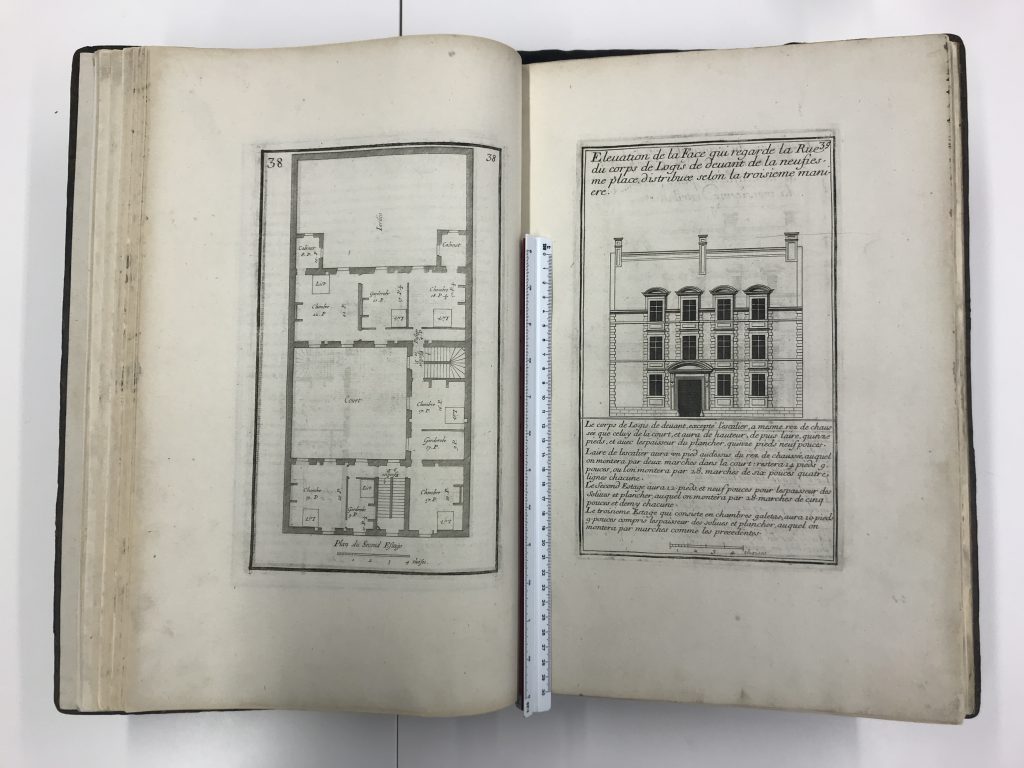 "Manière de bastir pour toutes sortes de personnes" by Pierre le Muet contains instructions for the construction of houses based on existing buildings in France.
The book itself doesn't contain many pages (overall 106), but it is quite heavy and big. The exact measurements are 450mm x 310mm x 35mm, for what reason it belongs to the category 'folio', according to the traditional standard book size format. It's cover is hard, may be made of some kind of cardboard and is set in dark brown leather. Despite the size of the pages, the content of the book is depicted rather small in comparison. The texts and illustrations are surrounded by generous margins.
It seems as if the book has been written very spontaneously. There is almost no clear order recognizable, an index for example can not be found. The only thing that suggests a structure is, that the book is subdivided into two parts. The first part consists of many single texts which are mostly supported by illustrations. The written parts are not longer than one page and are not directly related to each other, they all deal with their own topic. The illustrations are mostly views and sections of buildings, which are lettered but not numbered. This content is spread over 75 pages.
The second part contains only illustrations, those are floor plans and cuts, views and details.The illustrations are shown on 31 pages, but in between there are also some empty or torn out ones.  
(The first edition that was published in 1623 is located in Einsiedeln. This post is based on the second edition of the book from the year 1664. This version was supplemented with further illustrations of buildings.)