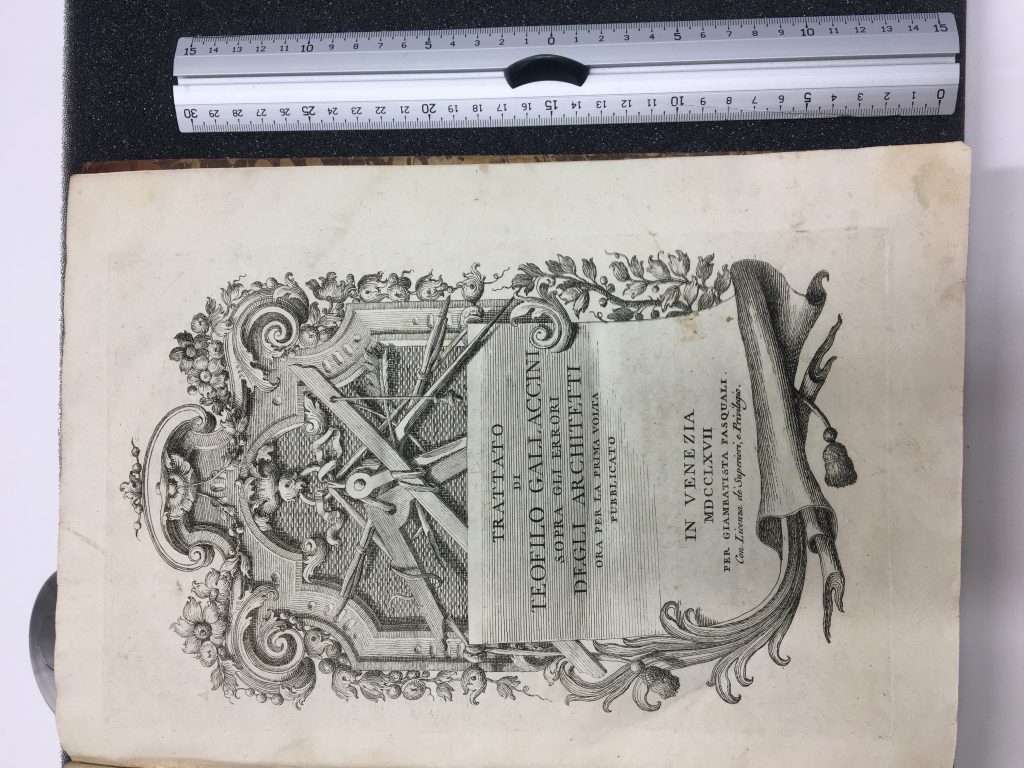 The book "Trattato di Teofilo Gallaccini sopra gli errori degli architetti" by Teofilo Gallaccini is about mistakes made by architects. Its cover is made of sand colored and dark brown marble paper and has a dark brown half leather binding (spine and edges) (dt: Halbfranz). The physical book contains Teofilo Gallaccini's book and "La Perfezione" by Antonio Visentini. It is 250 millimeters in width, 345 mm in length and 25 mm in breadth and can be classified as a Folio (2°). The pages are made of ivory laid paper and are yellowed and slightly stained.
The title is written on the third page (following two blank ones), which is beautifully decorated. There are 8 pages with a brief description of Gallaccini's life by Antonio Conte Pecci, a knight of Siena. They are followed by the index of chapters (Tavola dei Capitoli). There are 72 pages with text and illustrations. At the end, there's another index, which is about the subjects contained in the book. There are 96 pages in total and 26 of them contain illustrations (title included).
The book is divided into 3 parts (parte prima, seconda e terza) which are divided into chapters (Capo I-…). The titles of both of these segmentations are written in all capital letters. There are sub-chapters to the main chapters and they are followed by text. The size of the letters gets smaller in this order.