Seülen-Buch, oder Gründlicher Bericht von den fünf Ordnungen der Architectur-Kunst : wie solche von Marco Vitruvio, Jacobo Barrozzio, Hanns Blumen, etc. und andern vornehmen berühmten Baumeistern seind zusammen getragen und in gewisse Abtheilungen verabfasset worden : wie auch die so genandten darzu gehörigen fünff Termes, wie nemlich dieselben nach rechter Proportion und Symmeterey sollen auffgerissen und nachgemacht werden : mit neben beygefügten schönen Capitälen, Ausszügen, Untergehängen und Nebenflügeln, vermehret, aussgezieret, und in 3. Theil ordentlich eingerichtet : allen Liebhabern, so sich des Circkuls, Linials und Richtscheids bedienen, als Bildhauer, Mahler, Schreiner, Steinmetzen, Zimmerleuth, etc. und dergleichen, zu Lieb und Nutzen, in diesen geschmeidigen Format gebracht durch einen Liebhaber der edlen Architektur-Kunst an den Tag gegeben is a famous work of the Nuremberg art carpenter and draftsman Georg-Caspar Erasmus on the pillar architecture in the 17th century.
The book has 196 pages, including an amount of 85 illustrations. Its measurements are 360 mm in height, 45 mm in breadth and 280 mm in width. According to the traditional standard format, this would be a Folio.
It contains a total of 3 copper titles, which structure the whole book. The actual title page for the complete work is decorated with a full page illustration. The first section of the book, Erster Theil: Poetischer Vortrag von Ursprung der fünff Haupt-Seulen, contains 6 chapters. The second section Anderer Theil has 9 chapters, and the last section Dritter Theil has 25 chapters.
While leafing through the book, it is apparent that the texts are very densely written, but there is still a generous amount of illustrations in it. All illustrations and titles are copperplates made by the Nuremberg copper engraver Wilhelm Pfann (1644 – 1703). Throughout the entire book, the author meticulously talks about the pillar architecture in the 17th century, giving many examples in the illustrations.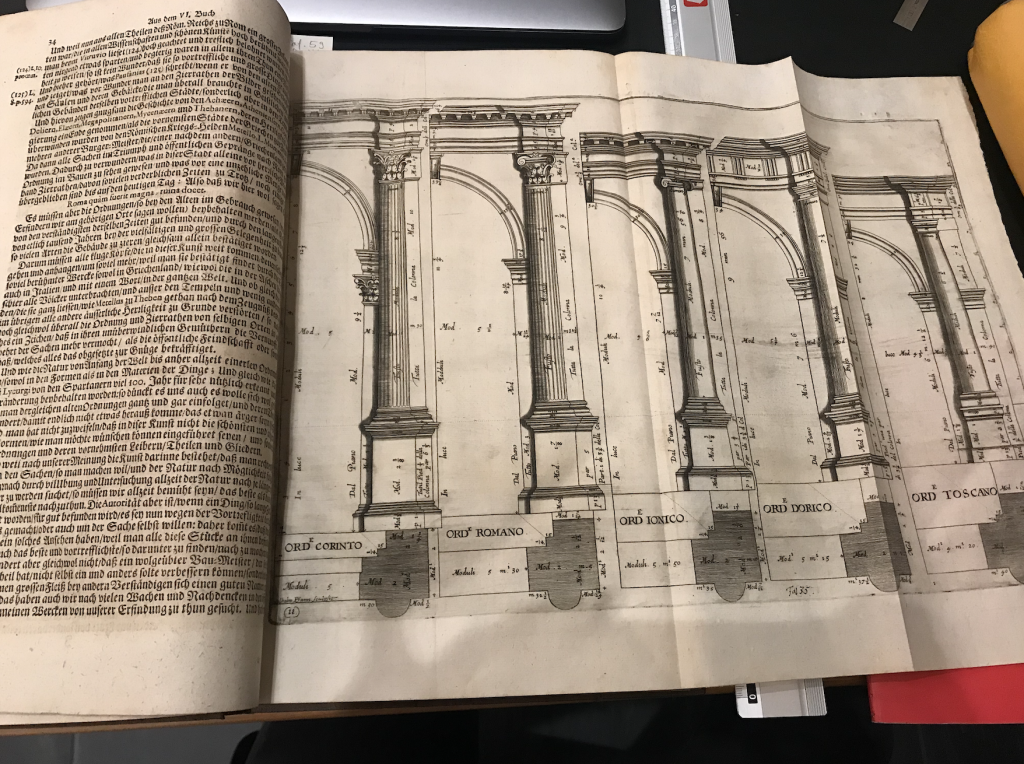 Although, centuries later, the book was very hard to read, as it is written in Old German and in an outdated font, the illustrations made it easier for the reader to understand the context. The book itself is in good condition, with all the pages and the hard cover still intact.